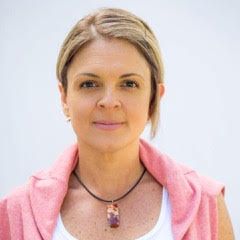 Behaviors in the Early Childhood Montessori Classroom
Objectives: 
Identify growing trends of students with special needs and define how the Montessori Method is able to meet the needs of students with varying exceptionalities 
Learn and identify concepts: Behavior, Executive Functioning Skills, Social Engagement.
Learn how to build positive relationships, tailor the environment and utilize specific interventions to meet the needs of each student in the classroom
Understand the role of observation and implement observation methods regularly
Learn specific intervention strategies and lesson adaptions to apply when working with students in 3 different levels: whole group, small group and 1:1
Optimize relationships with staff, administration and caregivers to build teams of support and access necessary resources
Age group:  3-6
Lecture duration: 82 minutes
Date: November 2020
Maria Eva Chaffin is originally from Venezuela. She is married with three boys and two dogs. She is in the process of completing her Doctoral Dissertation in Organizational Leadership. She holds a Master of Science in Exceptional Student Education, a Master's Degree in Business Education, a Bachelor's in Special Education, as well as a Montessori Teacher Certification in early childhood. Maria Eva is the founder of Seeds of Life Montessori Academy and Challenging Children and Montessori, a consultant, and a Faculty member of Sarasota University, where she is a professor in the Montessori Master Program. She has over 21 years of teaching experience and has been in the Montessori field for 10 years. It is her great passion to work with children with special needs and since completing her Montessori training she has fallen in love with the method. With her background and experience, she is convinced that the Montessori method is the best way for children to learn..