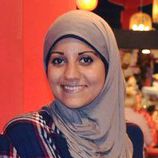 How to educate the senses of your child the Montessori way
Dr Maria Montessori's insight into recognizing and responding to the education of the young child's senses is a remarkable aspect of her method, which continues to inspire me as an educator. 
"The senses, being explorers of the world, open the way to knowledge. Our apparatus for educating the senses offers the child a key to guide his explorations of the world." Dr. Maria Montessori
In this workshop you will:
Have access to a practical handbook for reflection.
Have an overview of the Montessori Sensorial Materials and the importance of educating the senses of your child from an early age.
Practice how to broaden and refine your child's intelligence through the 5 senses.
Connect the senses to real life applications.
Learn how to offer older children in elementary more sensory experience that can help them excel academically.
Age group: 0-6
Lecture duration: 43 minutes
Date: April 2021
Dina is a MACTE certified Montessori educator with over 10 years of experience in teaching. She is the founder of Montessori Tube Academy, an organization that offers homeschooling parents and teachers easy to follow Montessori courses and resources for 3-12 age group. Dina is passionate for working with young learners helping each child progress in all areas of their development. She takes keen interest in offering a sensorial experience to the child in all age groups.